This Thursday I'm DMing as part of the opening of the RPG-themed Big Reality art show in the 319 Scholes gallery, Brooklyn, curated by Brian Droitcour.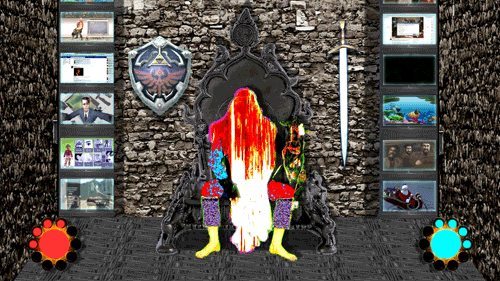 It may seem a little weird that I'm DMing as part of an art opening, but it all makes sense, I think. I (and my players, who include blogofholding friends Tavis Allison, Rory Madden and Mike Mornard) will be part of Brody Condon's "Lawful Evil", a performance piece where everyone plays Lawful Evil characters.
My gimmick: I'll be using Mazes and Monsters rules to add extra creepiness and misinformation to the mix. (Check out this great clip of Mazes and Monsters gameplay.
As for the rest of the show: here's Brian's take on it:
"Big Reality" proposes that contemporary everyday life seamlessly integrates elements of fantasy and play through consumer technology and networked media. The exhibition explores this proposition through artworks that draw imagery, themes, and devices from a relatively young and heavily stereotyped genre of play: the fantasy role-playing game. Born in the early seventies, when Dave Arneson and Gary Gygax hacked the rules of historical war simulations to make room for individual heroics and magic spells, the RPG blends game and narrative, systems and storytelling. It brought romance and adventure to models of numerical cognition, which appealed to players familiar with nascent computing culture. "From Nethack to play-by-post forums on the WWW," an Ars Technica blogger wrote in 2009, "the first thing that computer geeks do upon inventing a new medium is play Dungeons and Dragons with it." Whether played with dice and pencils, costumes and props, or a videogame console, the RPG codes a particular, specifically contemporary relation of the self of the world, one in which technology and abstraction, fantasy and play are deeply implicated in the routines of everyday life.

Fluxus and Oulipou captured the spirit of a freshly cybernetic world in works that incorporated chance, systems, open-endedness and open relations between author and audience. Gygax and Arneson gave the same spirit a popular form. With a few exceptions, the works in "Big Reality" are not games. Rather, they crystallize in a variety of mediums the expansive attitude toward life that play and imagination afford. The exhibition's artists grew up in a world with RPGs, in a time when concepts of "virtuality" and "real life" were necessarily disrupted as everyday modes of communicating and receiving information about the world rapidly changed. For them, fantasy is not an escape but one of many facets of an increasingly big reality.

With work by: Arcanebolt (Mark Beasley, Taras Kemenczy, Alex Iglizian), Bradley Benedetti, BFFA3AE, Laura Brothers, John Bruneau, The Center for Tactical Magic, Jacob Ciocci, Brody Condon, Chris Coy, Julia Ellingboe, Desiree Holman, Timothy Hutchings, Butt Johnson, Daniel Leyva, Guthrie Lonergan, Nick Montfort, Shana Moulton, Brenna Murphy, Oregon Painting Society, Robby Rackleff, Billy Rennekamp, Deb Sokolow, Eddo Stern, Third Faction, John Tynes, Andrej Ujhazy, and David Wightman.