Lots of Dungeon Robber progress was made this weekend, in terms of recordbreaking, bugtesting, and coding!
I'd like to thank everyone who submitted bugs. You guys kept me busy this weekend, and you found lots of things I might never have found on my own. There's a new version up: if you want to see the changes, or haven't tried it yet, or the server was down while you tried it before:
To make sure you have the latest version, look for "version 1.1" on the bottom right. (Hopefully you guys don't crash the server this time. I looked into hosting it on the cloud, but changing its URL might have meant deleting everyone's savegame, and I didn't want to do that. If you can't get in, wait an hour and try again.)
What's new in this version? We'll get to that below. First of all, I want to congratulate the first player to become KING: Nathaniel Doherty! Long live King Nathaniel I!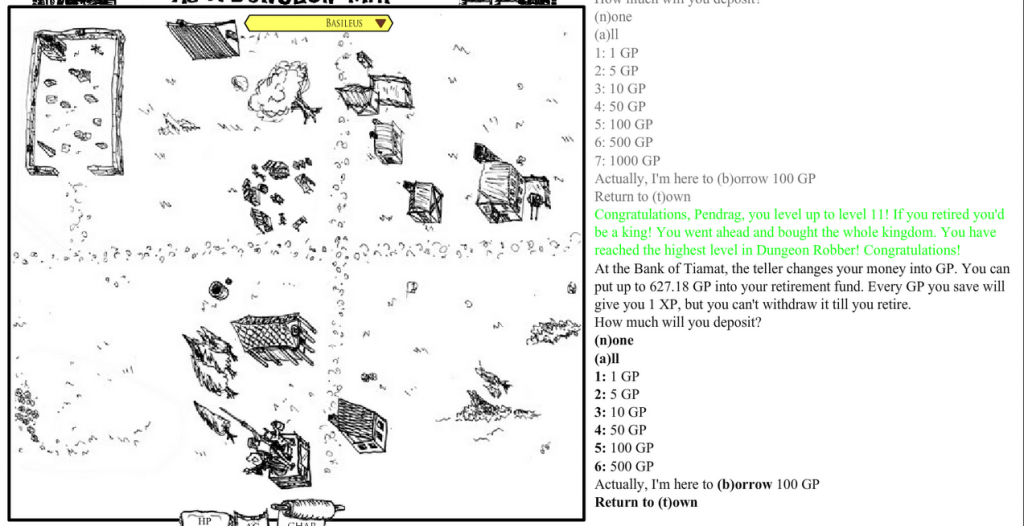 I'd also like to thank the second player to become King, Edwin Porteous-Coté, who takes away the record for the most bugs discovered. And check out his kingdom! So many buildings!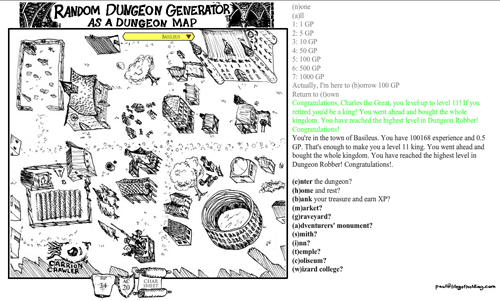 Even cooler, check out this Dungeon Robber fan art: an awesome comic series from Shane Hosea: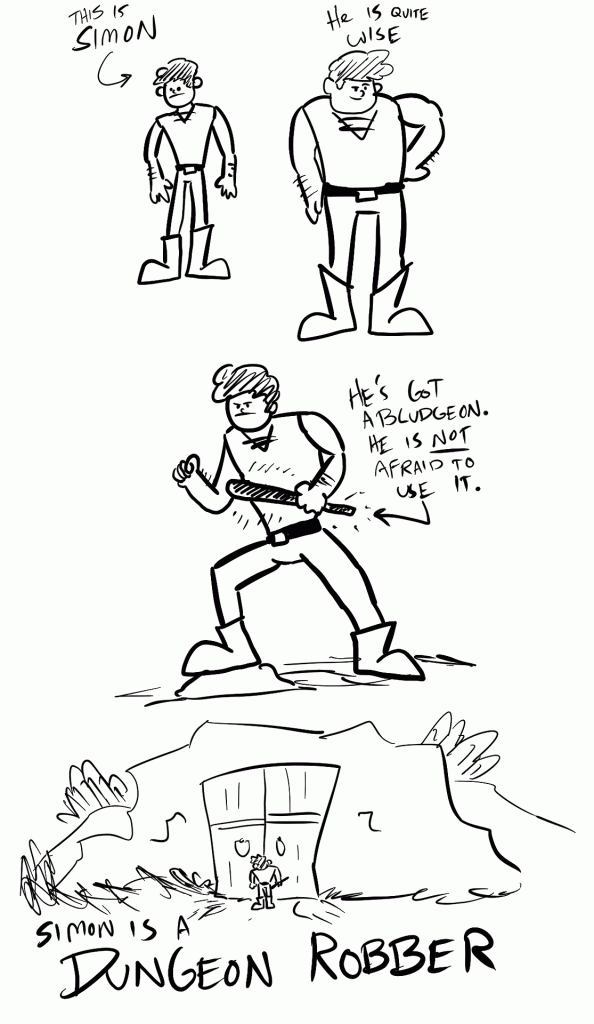 Will Simon ever find riches? How about a blind cave fish? Read the rest of Simon's adventures!
I was also happy to get a good mention by Rodney Thompson, one of the 5e designers and the guy behind Lords of Waterdeep. I'm glad the official D&D guys don't mind me messing around in their sandbox.




OK, now on to the bugfixes I promised!
Here's what's fixed in version 1.1 of Dungeon Robber:
* Fixed a number of problems with Armor Class, attack and damage bonuses stacking with multiple items. I know, usually that doesn't get fixed in a game until 3rd edition, but I'm ahead of the game.
* Prices are now listed for henchman-hiring measures at the inn. Who knew placards were so expensive!
* Removed the duplicate listing for room exits.
* Fixed a bunch of errors causing "undefined" items in the inventory.
* Killing monsters with items like the Wand of Magic Missiles gives you XP.
* Put in a tooltip in character creation telling you the requirements for a character class.
* Fixed various spelling errors and incorrect text.
* Elevators and other traps descend the proper number of floors, and make you lost.
* When you enter a shop, your money is changed to gold.
* If you have exactly 10 GP, you can rest.
* You can now heal henchmen with spells and food even when you're healthy.
* You can turn left by hitting either L or T, so that you can do the most common dungeon exploration tasks with your left hand.
* You can buy items in a store over #9.
* Fixed scroll of animate dead and potion of quickness, which weren't getting used up.
* Fixed Sanctuary spell, which wasn't ending.
* Fixed a problem where high-level henchman portraits weren't disappearing.
* Fixed an issue where the boring beetle didn't get highlighted in combat (it's easy to overlook the boring beetle)
* Fixed issues where nonviolent outcomes in the Coliseum would cause problems (just like in ancient Rome)
SOME OF THE BUGS I PLAN TO FIX NEXT VERSION:
* Some situation I haven't identified can cause a henchman's name to be "undefined".
* There have been reports of monsters not getting their turn occasionally.
* A few savegames have disappeared. This is my highest priority bug.
This was meant to be a strictly bugfix build, but I did add a few little things: new treasures like a Jacinth of Estimable Beauty and a ewer (can you believe I almost missed an opportunity to include ewers in a game?) I also added Iron Rations, which are a convenient way to buy food in 10-packs.
I have lots more stuff I'd like to add to this game, but since we're just around the baby's due date, there's no timeline for new features! Bugfixes come first!
OK, that's it! If you fire up Dungeon Robber today, let me know what new bugs I've introduced and which bugfixes didn't take! And thanks again for playing, reporting bugs, reading my blog, and kickstarting my project!
And here's the link again: