overabundance of ewers in D&D treasure
, but I didn't support my thesis with excessive evidence. That's not like me, and it changes today. Here are the ewers-in-treasure sightings in core D&D rulebooks:
BECMI D&D
I've already mentioned the cover of the 80s Red Box, but let's show it again:
But that's not even the only ewer in the Red Box. Here's a treasure illustration: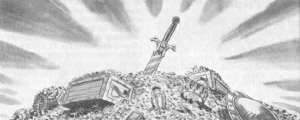 And here's one from the Expert set:
Look how fast that elf is throwing treasure out of those boxes so she can make room for those two ewers.
1st Edition
This picture from the DMG shows no less than nine vessels, although technically they may be jugs. We have some oval bodies here, but not really flaring spouts. Can we get a ruling from the judges?
2nd Edition
I don't have any pictures from 2nd edition, because I do not own 2nd edition books. I bet there are ewers in them. Can anyone with the 2e core books confirm?
3rd Edition
From the 3.5 DMG, here's a classic treasure hoard, with two full-on ewers front and center, and a jug lurking in the back, trying to decide if its spout is flaring enough to play with the big boys.
And there's more from the DMG!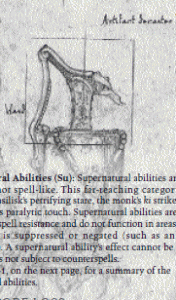 Here is a sort of architectural drawing of an "artifact decanter", but you and have discerning eyes, and we know that that is a ewer.

4th Edition

More ewers, although they might be functional ewers filled with mummy-making unguents and not treasure ewers.

Bonus ewers

So far, all my ewers have been core rulebook, but I thought I'd just peek in the Adventurer's Vault. Here's one from AV 1:

The full pic is of a guy running away with some treasure, mysteriously leaving the overturned ewer behind. DUDE, THAT'S A REAL EWER!

And here is the cover of Adventurer's Vault 2:

That's definitely a ewer in the left, in addition to the jug on the right and lots of silver plates.

So there you go. More evidence that ewers need to be upgraded to a major form of D&D treasure.

Tags: oldschool

I've mentioned the unnatural