Inspired perhaps by Greywulf's badass Thor cleric build from the D&D Essentials cleric preview, I've decided to run our Essentials trial game in the viking/Beowulf milieu. Somehow, I have never actually played in a viking game, although it is so 80's D&D, as illustrated in the following Venn diagram: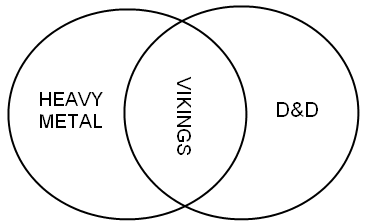 With the Essentials Starter Set leaning on the early-D&D nostalgia button (reintroducing the terms "thief" and "backstab", for instance) I think it's time to pump up some Viking metal and prepare to journey from the frozen North.
Speaking of 80s nostalgia and Vikings, take another look at the cover of the D&D Essentials Starter set (which uses the same art as the 80s red box).
Look at that guy fighting the dragon. Look at his horns. They're like 2 feet long. That guy is a viking. If you're not playing viking D&D, you're Doing It Wrong.
This illustration is so classic 80's D&D that it should really serve as a road map to my Viking adventure. Besides the viking, we have a dragon – a strange-kneed dragon – and the setting is a dungeon floor of tumbled stones, with a vast treasure piled in the rift. Classic!
Take a look at the composition of the treasure though. The predominant treasure type is gold… glittering gold. As it should be. Then there's what looks like a potion… a chest… and no less than three jugs.
Are they jugs? Pitchers? Vases? Decanters? I think when they're in treasure, they might be called ewers? Anyway, there are an excessive number of ewers in this dragon's hoard.

This is definitely not the only appearance of ewers in iconic D&D treasure. I'm sure they're found in core-rulebook treasure illustrations from every edition, along with gems, ropes of pearls, and glowing swords and scrolls. Given they're so important in the art, it's too bad they're not more widely represented in the game rules. There are a handful of magical ewers, like the Alchemy Jug, and generic rules about jewelry and objets d'art being in any shape you want. Sure, you could throw a ewer into a treasure! But nobody would care!
This must change. I must create a houserule for my Viking campaign where ewers take their rightful place as an key part of any treasure hoard. Come the September release of Essentials, here's the dialogue I want to happen:
DM: In the treasure, you find 1000 gp, an emerald, a +1 sword….. and a ewer.
PLAYERS: Ewer!? (they clank brimming horns of mead) Rock and roll!!
Any ideas for a ewer-heavy campaign?